Top Gun® is a military aviation-inspired apparel brand that goes beyond aviation heritage. It stands for perfection, authenticity, quality and durable garments. Read more.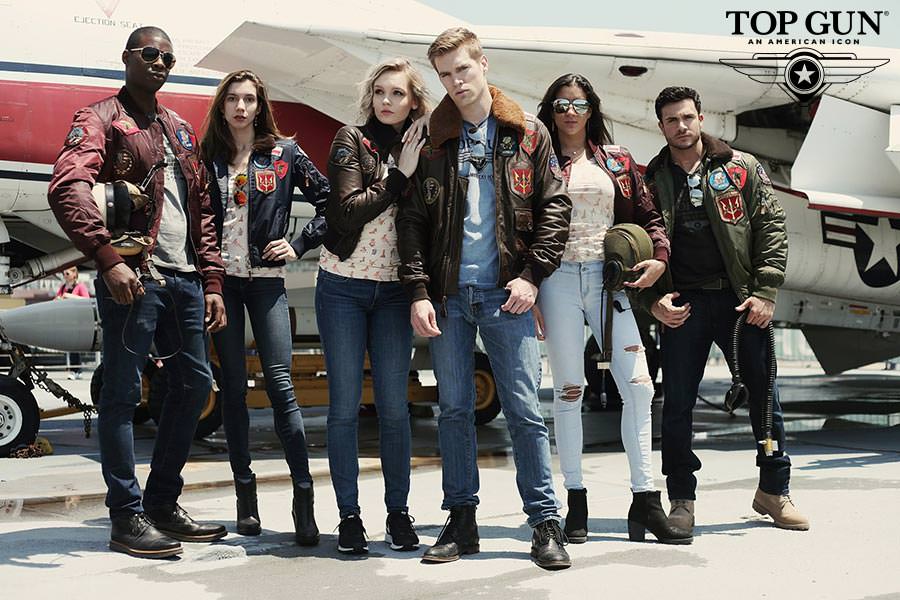 Top Gun Clothing - The Inheritance
Top Gun® is a military aviation-inspired apparel brand that goes beyond aviation heritage.
It stands for perfection, authenticity, quality and durability.
The brand is a lifestyle product that expresses its passion for speed, performance and style with a new,
refined nonchalance that is definitely subtle and of high quality and craftsmanship.
Top Gun Clothing - The History
Inspired by Navy Top Gun's military heritage and popularity, Top Gun® Fashion was founded in Queens, New York in 1996.
According to the standards of perfection and durability used at the Top Gun School,
The brand wanted to set the same standards in fashion.
Top Gun® Fashion focuses on the same materials they use in the design and manufacture of their coats:
heavy industrial nylon products and high quality leather. The jackets are designed with army, history and ease of use in mind.
Booted into the American "speed culture" from fighter jets to vintage motorcycles and everything that goes fast! The name is not only reminiscent of films and airplanes, but also of the unique American desire to stand upright and be successful no matter what the odds.
Mentality is not expressed in the form of testosterone, but in a bold, unshakable design and a clear and honest will to produce products and brand experiences that make a difference for our consumers - especially for a strong, independent female consumer.
Design and quality exceed expectations and market standards. In the future of Top Gun® it is firmly anchored to only offer products that fulfill all aspects of what makes great garments. Fit, workmanship, style and durability.
TG has the ability to involve our consumers in both product development and all aspects of the brand experience. From quickly testing new clothes in the flagship doors to previewing communications and seasonal efforts before shipping them to our wholesale customers, the brand will be smart, pointed and open-minded for our consumers.
The same standards are applied to the manufacture and design of Top Gun jackets as to TOP GUN pilots during their training. That is why we only use extremely resistant fabrics and high-quality real leather!
The story of the Top Gun: Maverick movie
Top Gun: Maverick revolves around the fifth generation of fighter pilots and explores the end of the aerial combat era. Pete Mitchell aka Maverick is now an instructor at an Air Force pilot school and, together with his former competitor Tom 'Iceman' Kazansky (Val Kilmer), accompanies young Bradley Bradshaw (Miles Teller), the son of his late partner Nick 'Goose' Bradshaw (Anthony) Edwards) .
Tom Cruise in Top Gun (1986)
In the original Top Gun from 1986, Maverick works with his co-pilot Goose at Top Gun, a tough naval training course for pilots. Here he competes with another excellent pilot, Iceman. Maverick is a hothead and his partner Goose is killed by a ruthless maneuver, which makes him doubt whether he should continue flying. Eventually, he will face his rival Iceman.
The sequel to the 1986 film is fully attuned to this period. Top Gun: Maverick is about the appearance of drones and how pilots are gradually becoming a thing of the past. Maverick's boss, played by actor Ed Harris, challenges him in the first trailer by saying that fighter pilots are becoming redundant. "The end is inevitable, Maverick. Your child is on the way to extinction," he is heard saying. "Maybe sir, but not today," Maverick replies.
For a complete "Top Gun" outfit, you can visit our online shop.